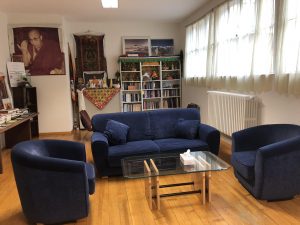 The Tibet Bureau in Geneva is the official agency of His Holiness the Dalai Lama and the Tibetan Government in Exile (Tibetan Central Administration), based in Dharamsala, India, for Central and Eastern Europe.
The Tibet Bureau, opened in 1964, has as its main objective a better understanding of the situation in Tibet and to raise public awareness of the non-violent struggle of the Tibetan people.
It represents His Holiness the Dalai Lama and the Tibetan Government in exile in the following countries: Switzerland, Germany, Principality of Liechtenstein, Austria, Italy, Malta, Greece, Turkey, San Marino, Czech Republic, Slovakia, Hungary, Slovenia, Croatia, Serbia & Montenegro , Bosnia Herzegovina, Romania, Bulgaria, Macedonia and Albania
It works in close cooperation with the United Nations and other international organizations.
The Tibet Bureau provides administrative assistance to the Tibetans living in the countries mentioned above.
It organizes the visits and travels of His Holiness the Dalai Lama and representatives of the Tibetan Government in exile in the above mentioned countries.
Its Main Functions are:
Preparing visits of His Holiness the Dalai Lama and officials of the Central Tibetan Administration
Look after the welfare of Tibetans living in Europe and to strengthen their relationship with the Central Tibetan Administration
Support the preservation and promotion of Tibetan culture, religion and language
To inform and seek support from governments, parliamentarians, international institutions, NGOs and interested individuals about the situation in Tibet and the Tibetan issues.
To maintain contact with Chinese in Europe including from mainland China to explain His Holiness the Dalai Lama's position to resolve the Tibet issue through non-violence
To raise the Tibet issues in UN Human Rights Council sessions
Seek funds for education, health and other social developmental projects
Present Representative
Mr. Chhimey Rigzen took up the position of Representative of His Holiness the Dalai Lama for Central and Eastern Europe on 07 March 2019.
Prior to taking up this position, he was the Secretary of Department of Home, Dharamshala, India.
Born in 1960 in Pemakoed, Tibet and completed his Higher Secondary Education from CST Darjeeling in 1980. Completed his BA (Private Candidate) from Chandigarh University while serving the SFF till 1994. From 1994-96 worked as Accountant cum Administrator at Menlha Hospital, Phuntsokling Settlement in Orissa. He begin his service in CTA on 2 January 1997 as Deputy Secretary at the Kashag Secretariat. On 15 November 2000 transferred to Bir Tibetan Society as Settlement Officer. In 2003 transferred to Tibetan Settlement Officer in Manpat. On 12 November 2004, promoted to Joint Secretary and transferred to Lugsam Samdupling Settlement Officer in Bylakuppe. On 9 March 2006, transferred to Department of Home and hold the post of Agriculture and Cooperative Division. On 3 February 2012, Promoted to Additional Secretary. On 13 January 2016, transferred to Health Department as Acting Secretary. From 25 July 2016 – 15 May 2017 served Department of Home as Acting Secretary and official took the charge of Secretary of Home Department on 16 May 2017.
Much of Mr. Chhimey's career was centered on rural development and public administration.