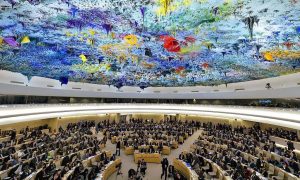 UN Member States raised concerns over systematic violations of human rights by China, including in Tibet, in the ongoing 52nd UN Human Rights Council session, which is currently underway in Geneva, Switzerland.
Underscoring grave human rights situation in China and regions under its control such as Tibet, distinguished representatives from Australia, Austria, Belgium, Czech Republic, Denmark, European Union, Finland, Germany, Iceland, Japan, Lithuania, Norway, Switzerland, Sweden, United Kingdom and United States of America deplored continued violations of human rights by China. The Member States called China to abide by its obligations under international human rights law.
With regard to the deteriorating human rights situation in Tibet, Australia expressed concern over "erosion of educational, religious, cultural and linguistic rights and freedoms in Tibet". Expressing "deep concerns" over human rights violations by China, Belgium raised the disturbing development of "compulsory boarding schools and DNA sampling" in Tibet. Delegation from Finland said "evidence-based" rights violations by China in Tibet and other regions are "concerning" and called China that "Universal human rights need to be guaranteed for all –   including persons belonging to ethnic, religious or linguistic minorities, human rights defenders, intellectuals and lawyers".
Denmark underlined the UN reports of Tibetan children forcibly "separated from their families", and reiterated calls on China to abide by its obligations and to work with the OHCHR.
Recalling the findings of the UN Committee on Economic, Social and Cultural Rights, Switzerland urged China to immediately end violations of human rights and release all human rights defenders arbitrarily detained, particularly in Tibet.
The United Kingdom is "deeply" concerned by China's disregard for universal human rights and urged China to "reverse oppressive policies in Tibet". The delegation further highlighted concern over the UN recent report of "one million Tibetan children were forcibly separated from their families to assimilate them into majority Han culture".
Reiterating "deep concern" over rights violations by China and the ongoing "genocide and crimes against humanity" by China, the United States of America urged the human rights council to "maintain focus" on atrocities committed by China in Tibet and other regions, and also called upon the High Commissioner to "address them". Similarly, Germany, Lithuania and Sweden expressed "serious" and "deep" concern over rights violations by China, including in Tibet.
The European Union, Austria, Czech Republic, Iceland, Norway and Japan expressed growing concern over rights violations by China.
Additionally, during an interactive dialogue on the situation of human rights defenders, the UN Special Rapporteur Mary Lawlo said China is a "disaster when it comes to human rights defenders". The Special Rapporteur further noted "shocking" cases of 15 human rights defenders jailed by China for longer than 10 years.
In his maiden oral update of activities of the Office of High Commissioner for Human Rights, the High Commissioner Volker Turk announced, with regard to China, the Office has opened "channels of communication with a range of actors to follow up on a variety of human rights issues" including protection of Tibetans, Uyghurs and other groups.
The ongoing UNHRC 52nd session commenced from 27th February will be concluded on 4th April 2023.