UN Member States Raise Tibet in the UNHRC Session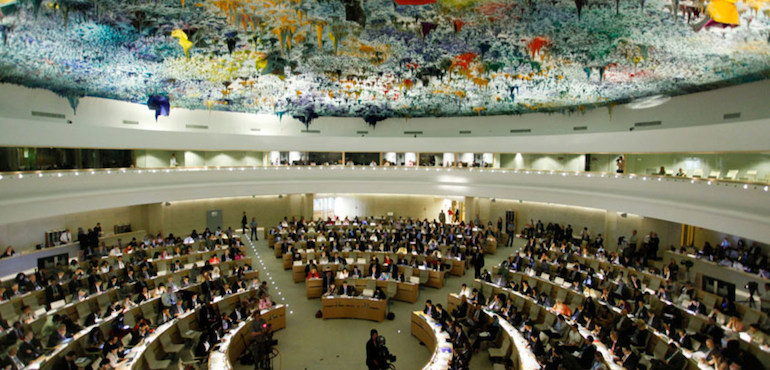 Geneva: In an encouraging development, several UN member states including Germany, France, Canada, US and Bulgaria-on behalf of the EU- expressed concern over human rights situation in Tibet at the on-going 37th regular session of the UN Human Rights Council in Geneva. The member states have also called China to release all who have been detained for exercising their fundamental rights. Some member states have explicitly mentioned the case of Tibetan language rights advocate Tashi Wangchuk.
Debating under Item 4 "Human Rights situations that require the Council's attention", Germany called on China to allow visits of UN Special Procedures to Tibetan areas. Germany remained "deeply worried" on the Chinese government's infringement on freedom of religion, expression and association and denial of people's right to have an access to fair trail. The state urged China to "immediately release all human rights defenders" including Tashi Wangchuk, a Tibetan language rights advocate.
The European Union expressed concern over detentions and access to fair trails of human rights defenders and lawyers including Tashi Wangchuk. The EU called China to "release all detained human rights defenders" and "respect the rights of freedom of expression offline and online, and of religion, as well as cultural diversity, not least in Tibet and Xinjiang."
Canada raised China's continued "persecution of religious and ethnic minorities" including Tibet, and highlighted its contradiction with its international obligations and the constitution. Canada also urged China to "release all individuals" who have been detained for exercising their right to freedom of religion and expression, and advocating for linguistic and cultural rights.
The United States expressed concern over the "harsh condition akin to marshal law" that the Chinese government has imposed in the Tibetan areas.
Expressing concern over human rights situation in Tibet, France called on China to have "dialogue with local population". The United Kingdom remains concerned about the "serious human rights conditions" in China.
In addition to the member states' statement today, on behalf of Society for Threatened Peoples Dawa Tsultrim, UN Advocacy Officer, delivered an oral statement on "shrinking space" and "challenges for Tibetans to have a dignified life under China's repressive policies."
Ms. Mélanie Blondelle, Policy and Advocacy officer for International Campaign for Tibet on behalf of Helsinki Foundation for Human Rights and Democracy urged the member states to "strengthen their individual and joint efforts to address the Chinese government's harmful policies and human rights abuses in Tibet."
Prince Zeid Ra'ad al Hussein, the UN High Commissioner for Human Rights, expressed his sadness over China's human rights record, earlier this month. He informed the Council member states that his office continue to receive reports of human rights abuses by the Chinese government against various communities including Tibetans.
A week before the opening of the 37th regular session of the council, a group of UN experts have publicly called on China to "drop" all the allegations against incarcerated Tibetan language rights advocate Tashi Wangchuk. The experts have also urged China to release him "immediately".
A week-long Tibet advocacy at the United Nations undertaken by DIIR and Tibet Bureau, Geneva, to highlight the deteriorating human rights situation in Tibet concluded successful a week ahead of the 37th UNHRC session.
 – Report filed by Office of Tibet, Geneva –