SHINING A LIGHT ON INJUSTICE HELPS, BUT DOESN'T ALWAYS FIX IT, SAYS AWARD-WINNING JOURNALIST SIMON DENYER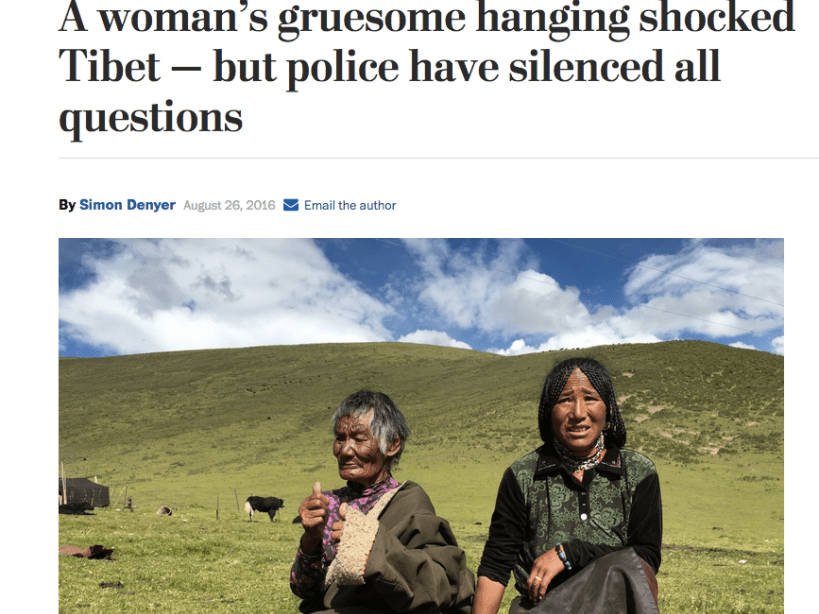 By humanrightspressawards.org, 12.4.2018: (Read Original Story Here)
Giving a voice to the powerless in the case of a family's search for the truth about their daughter's death was the legacy of an award-winning story by Simon Denyer.
Through his Washington Post exposé about the mysterious death of Tibetan Tsering Tso, who was found hanged shortly after being seen with a priest and two policemen in the autonomous region of China, Denyer had hoped to help the family seek justice. Yet two years on, questions still remain about how and why the 27-year-old died. Despite the publicity from Denyer's story, no one has been prosecuted over the death.
The story won the English Spot News Category at the 21st Human Rights Press Awards. Had Denyer not reported on the case, Tsering Tso's family would never have had their story heard.
A seasoned journalist and Washington Post's Beijing bureau chief covering China, Denyer admits nothing much surprises him. However, he said he was shocked at the "utter powerless of the villagers in the face of injustice and abuse of power by local officials".
He said: "People were very angry at what had happened, but there was really no recourse, no legal avenue for them to get answers when two local policemen (and a Buddhist priest) were suspected of involvement in Tsering Tso's death. In a sense, speaking to me was a final, desperate attempt to get publicity and justice: or simply a way for Tsering Tso's name not to be forgotten."
The story came to Denyer's attention through activists at Free Tibet and the International Campaign for Tibet in London. After Tsering Tso's body was discovered, authorities insisted it was suicide. Her family suspected foul play and demanded an investigation. Protests followed. Then, at her funeral, authorities retaliated, sending in armed soldiers to arrest supporters. In the days that followed, five villagers were jailed for several years for protesting and demanding justice.
Travelling to the area where Tsering Tso lived to hear at first hand what had happened was a story in itself, said Denyer. In such a remote area, it would be a mammoth task to find Tsering Tso's family without drawing the attention of authorities. Added to that was "a hair-raising trip" along "a single-track, pot-holed mountain road alongside some pretty scary drops" at the hands of a driver who insisted on travelling at full speed.
But Denyer struck lucky with his invaluable local guide and found the family in the remote spot in a valley where they had pitched their tent.
"There, in an impossibly beautiful grasslands valley dotted with Tibetan tents, with trails of smoke reaching up into the blue sky, and herds of yaks returning from the mountain pastures, we sat in the late afternoon and heard the whole story from her mother, grandmother and several other relatives. My Chinese colleague Sky Xu Yangjingjing translated between English and Chinese, the construction worker translated between the local Tibetan dialect and Chinese, and we learned about a young woman who was deeply loved by her family but had met a tragic and mysterious death," he recalled.
Despite the promise of a full investigation into the death following the publication of the Washington Post story, the priest is free and living in a different part of the county, with a new girlfriend. The two policemen are back at work as before, without restrictions, he said. The story did, however, prompt two groups of officials from Kardze prefecture to visit Ragya and pledge one million yuan to be spent on development projects in the area.
For Tsering Tso's family, justice has yet to be served.
"When we report stories of injustice, how much difference can we make as journalists? It is all-too-rare that individual stories bring real change, perhaps especially in China. This was a moving story, and it was an honour to meet Tsering Tso's family, but would my reporting make a difference? That's a question I often grapple with. It remains unanswered in this case," said Denyer.