Younger Tibetan generation must uphold the legacy built by the older generation: CTA President at Bandara Tibetan Settlement
Bhandara, Maharashtra: The President of the Central Tibetan Administration Dr Lobsang Sangay interacted with the Tibetan community at the Norgyeling Settlement, Bhandara during his visit to the settlement on 7 August.
Addressing the Tibetan community, the President admired the initiative and participation of the community in the discourses on Introduction to Buddhism at the settlement. As His Holiness the Dalai Lama has always spoken of Buddhism as more than a religion, as a "science of the mind", the President iterated that Buddhism gives us a different perspective to the struggles and to life itself.
He further spoke of the humble and wise nature of the Tibetans that His Holiness often speaks of and urged the young Tibetans in the audience to preserve the legacy built and left by the elder generations under the leadership of His Holiness the Dalai Lama.
The President also talked about the various undertakings of the CTA, such as its loan schemes with minimal interests to the Tibetans in sweater selling businesses and Tibetan taxi drivers. During his speech, the President also shared CTA's plan to launch a similar loan scheme for education next year. He also spoke of land demarcation under the Tibetan Rehabilitation Policy 2014 and admired Tibetans who revert their lands back to the administration upon circumstances leading towards unused or uninhabited lands.
Speaking of the trajectory of the Tibet cause, the President shared that though China misuses its economic influence to limit effective lobbying for Tibet, at the same time he added that the rise of China has also led to more global discourses on China and with it Tibet. He further expressed the significance of harmony and unity within the Tibetan community in the Tibet struggle.
Upon his arrival, the President visited the Nagyur Dubgyud Choepheling and Shigon Theckchenling monasteries. The visit also saw interactions with students of Sambhota Primary Day School, residents of the Old Age People's Home and a visit to the hospitals and the new rice mill factory funded by Gaden Phodrang, which is expected to be inaugurated this September.
Dr Sangay is scheduled to attend the Thank You Karnataka event on 10 August.
Filed by Tenzin Lhakmon, Communication Officer, Sikyong's Office
President Dr Lobsang Sangay addressing the gathering.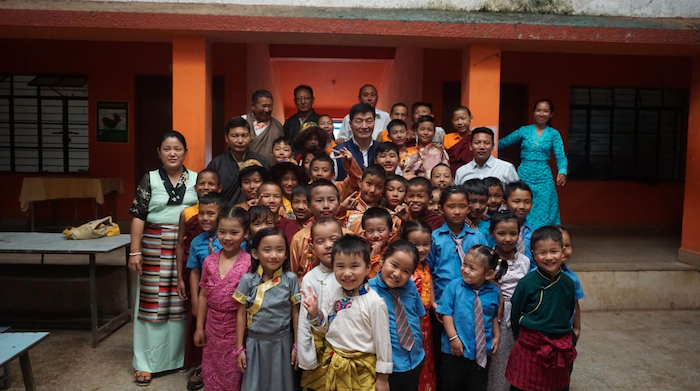 President Dr Lobsang Sangay with the students of Sambhota Primary Day School.
President Dr Lobsang Sangay visiting the new rice mill factory at the settlement.