Tibetan Association in Germany Appoints New Executive Members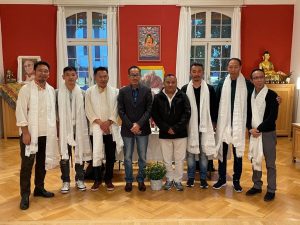 Geneva: Tibetan Association of Germany appointed its new executive members in the two-day General board meeting held from 2nd October to 3rd October 2021, in Frankfurt, Germany.
Representatives from five sections of the association, including Berlin, Frankfurt, North Rhine Westphalia, Stuttgart and Hamburg, participated in the general board meeting presided over by Representative Chhimey Rigzen and Sonam Therchin of the Tibet Bureau Geneva. Representatives of Tibetans in the Munich section abstained from the meeting.
A wide range of issues was discussed, including the final election of the associations' executive member for a three-year term. The new executive members of the Tibetan Association in Germany are President Tenzin Yeshi, Vice President Thupten Tsering, Treasure Mr Tenzin Phurpa Tashi and Cultural in charge cum and accountant Lobsang Gedun.
Representative Chhimey Rigzen of the Tibet Bureau congratulated the new executive members and thanked all the association members for closely working with the Tibet Bureau Geneva in implementing projects and programmes under the direction of the Central Tibetan Administration. Representative Chhimey further emphasized the crucial role and responsibilities of the Tibetan association and its members, especially given the growing population of Tibetans in western countries, including Germany.
Due to the pandemic related restrictions, the general body meeting of the Tibetan Association in Germany, which was initially planned last year had to be rescheduled several times.