German-Tibetans Run for Tibet in the German Post Marathon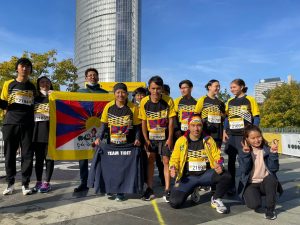 Geneva: Tibetans in Germany participated in the German Post Marathon Bonn, one of the largest running events in Germany as Team Tibet on 17 October 2021.
A group of Tibetans joined with over 4000 German athletes, runners, and walkers in the running event under the flagship of Team Tibet, crossing through the German federal city of Bonn and other historical places of the city that covered 5 km to 40 km.
The Team Tibet from North-Rhine-Westphalia (NRW) regional section of the Association of Tibetans in Germany joined the running event to create awareness on Tibet. Furthermore, the event intends to express gratitude to the people and government of Germany for solidarity and support for Tibet for all these years and also to mark the 14th anniversary of the historic bestowal of the US Congressional Gold Medal, the highest civilian honour of the United States, to His Holiness the 14th Dalia Lama, according to the President of the Association of Tibetans in Germany Mr Tenzin Yeshi.