China cannot Legitimise its Rule over Tibet without Negotiating with Tibetans: Dr Micheal van Praag at Geneva Forum 2021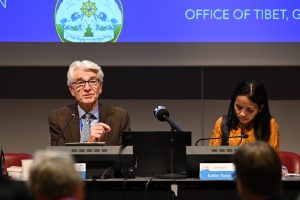 In a special session titled 'If Tibet was Water Under the Bridge, Think Again', Dr Micheal van Walt van Praag discussed his latest book 'Tibet Brief: 20/20' on the second day of the fourth Geneva Forum, on 2 November. The session was moderated by Kalden Tsomo, UN Advocacy Officer at the Tibet Bureau based in Geneva.
Dr Michael van Walt van Praag is the Executive President of Kreddha, and Senior Fellow of the Sompong Sucharitkul Center for Advanced International Legal Studies.
In his address, Dr Micheal Van Walt Van Praag gave a brief background as to how the book 'Tibet Brief: 20/20' came about. He said this book is a result of decades of work and research by a number of people, and presents new understanding on Tibet.
"In this book we tried to identify the principal obstacles to achieving a negotiated solution. In the case of Tibet-China conflict, it led us to look very deeply into history. And the reason that we did this was because China has placed history right in the centre of the conflict. Firstly because the PRC's only claim to legitimacy to rule Tibet has been the claim that Tibet has always been a part of China since antiquity. The PRC has never claimed any other grounds for ruling Tibet. Only the historical ground, and that makes history essential to understand Tibet. Secondly, the Government of the PRC requires that His Holiness the Dalai Lama make a statement that Tibet has always been a part of China as a pre-requisite for substantive negotiations and discussions. For both these reasons, clearly, history is key," he stated.
Describing the approaches that the authors used to come up with the book, he explained: "We approached the book project in two parts. The first part was working with scholars around the world to try to understand inner and east Asian history from the time of Genghis Khan to the present time."
"We chose Genghis Khan because that is the moment when Eurasia changed. And also that is the point at which, according to the PRC, Tibet became a part of China. That first project led to the book 'Sacred Mandates: Asian International Relations Since Genghis Khan'. And this has contributions from some of the top scholars in the world," he said.
He further spoke about de-centering China from Inner and Central Asian history to understand Tibet and other parts of Asia. He notes that there is a heavy Chinese influence in academia that has led to China-centric perspective of looking at Inner Asian and Tibetan history.
"Usually, the western understanding of Inner Asian history is derived from the Chinese or Sinic-confucian philosophical or political perspective. That is because one of the most important disciplines to study Asia was Sinology. And we have been relying on Chinese source material to understand the rest of relations in that part of the world. However that is not true of how the Japanese or Mongolians or Russians or how many others have done it to understand Asia. So the approach that we took for this book was to look at Tibetan, Mongolian, Japanese, Persian, Russian, Vietnamese, Chinese, and Manchu scholarship and source material to understand inner and east Asia. This approach de-centers China and somehow centres the impact and influence of the Mongols. A significant consequence of this new way of looking at Asia is how we place Tibet and its role in Asia," he said.
Expressing the need to counter China's effective propaganda, he explained his book 'Tibet Brief: 20/20' will bring clarity on the issue of Sino-Tibetan conflict and also explained the meaning of the book's title and cover design.
"We felt that seventy years after China invaded Tibet and particularly in the last 20 years, there is no longer clarity on what happened in relation to Tibet. There is no longer clarity on whether Tibet was a part of China or not, whether the Manchurian Qing empire was Chinese or whether Tibet was really invaded, or whether it was aggression that made Tibet a part of China after 1951, etc. This lack of clarity, which has been fed by a very effective single-pointed Chinese propaganda on the historical narrative, has caught on internationally," he noted.
"The propaganda has been so effective and not effectively countered that there is now a cloud over Tibet. We don't quite know whether it's true or not and we don't know how we should relate to China's rule of Tibet. So in that sense, the title of the book 'Tibet Brief 20/20' means to bring clarity to the Tibetan question. 20/20 refers to 20/20 vision which is perfect vision. This is why we have this image on the cover that you see when you go to the eye doctor. So the book aims to provide perfect clarity on Tibet and I hope this book achieves its objective," he said.
Speaking on the key findings of the book, Dr van Praag stated he found from his research that at no point in history was Tibet a part of China. However, he clarified that it doesn't mean that Tibet didn't have relations with the Mongols, and the Manchus.
"Part of how the Tibetan Buddhist world functions was one of interdependence. The Dalai Lama was the spiritual and temporal leader of Tibet who depends on the Mongols for the defence of the faith, of the people, and of the state. Later, the same arrangement was secured with the Manchus. The Manchu emperor also depends on the Dalai Lama to be legitimised as the universal ruler (Cakravartin). So yes there was a close relationship," he said.
"However, the key thing to note here is that this relationship was never between Tibet and China. There is a clear distinction between the Mongol and Manchu empire and China ,which China is obfuscating on purpose. The entire regime of the Manchu and Mongol were an occupation regime of China with garrisons everywhere to keep the Chinese as a subject people. However, the relation between Tibet and the Mongol and Manchu empires was different. There was no army, no administration people. So the Chinese talk about Tibet becoming a part of China from the Yuan dynasty and Qing dynasty is a falsification of history," he remarked.
Calling China's rule of Tibet as illegal under international law, Dr van Praag explained that no country can acquire sovereignty over a territory through aggression which means that legally Tibet is a not a part of China today, but an occupied state.
"Under international law, there is no legitimacy to China's rule over Tibet and China's leaders are conscious of this fact. This is why they want the Dalai Lama to make a statement that Tibet has always been a part of China. Such a statement from the Dalai Lama would legitimise China's historical narrative that gives them legitimacy. It is also the same reason that the China pressures other governments to make statements to recognise Tibet as part of China because that also creates a sense of legitimacy. However, it doesn't create legitimacy because France cannot give China legitimacy. International law forbids recognising annexations through the use of force. The legitimacy has to come from the Tibetans themselves. This is why China needs to negotiate with the Tibetans to gain legitimacy," he said.