Despite being politically, militarily, and economically empowered, China lacks moral power: Sikyong at IPAC Conference in Rome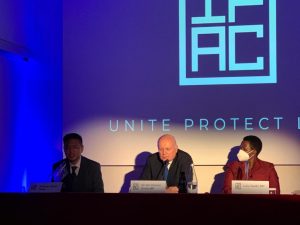 Sikyong Penpa Tsering addressing the IPAC Conference. Photo: IPAC
A body of some 200 global parliamentarians, diplomats and experts gathered at the conference of the Inter-Parliamentary Alliance on China (IPAC) held on Friday, 29 October in Rome to stage a counter-meeting ahead of the G20 Leaders Summit to demand a tougher stance towards the Chinese government.
Sikyong Penpa Tsering of the Central Tibetan Administration (CTA) was among those leaders who accused China of its hypocrisy and firmly called out China's unlawful actions against the Tibetans, Uyghurs, Taiwanese, and Hong Kongers. He expressed his gratitude for a platform like IPAC that besides candidly representing the predicament of those unjustly ruled by the authoritarianism of the Chinese government, advances their fight against China. Defending the unquestionable right of the Tibetans and others, Sikyong stressed that there was absolutely 'no room for authoritarianism'.
"For the G20 members of the democratic countries, it is not enough to have freedom in your own countries since the entire world is an interdependent community of human beings. It is paramount that you ensure the values you cherish in your countries be available to those ruled by authoritarian ones like the Chinese government," Sikyong asserted.
Since G20 also focuses on key issues like climate change, Sikyong of CTA appealed to the members to invariably highlight and discuss the climatic issue facing the Tibetan Plateau which is widely known as the third pole. He emphasised Tibet's contribution to the major rivers in Asia since Tibetan Plateau is the largest reservoir of permafrost and given how there is very little transparency in how China handles environmental issues and climate change, Sikyong said China must be strictly called out for its attitude against climate change.
Despite China always talking about a harmonious society, Sikyong classified that China, in reality, is the principal stakeholder in the global disharmony while highlighting China's belligerence against India through its invasive attempts of the Indian border much like its attempt to control the South China Sea to Taiwan which he noted was unreservedly objectionable.
"Despite being politically, militarily, and economically empowered, China lacks the moral power," noted Sikyong Penpa Tsering and demanded China to stop its unlawful actions if the global leader is indeed what they aspire to be. Sikyong concluded his address by urging China to change its ways starting with building trust with the international community.
At the same conference, global parliamentarians from democratic countries like the U.S, Europe, Canada, Japan, and India etc. unanimously called out China to take accountability for human rights abuses and to stop being a global bully.