Sikyong Meets Dignitaries, Students, and Tibet Supporters in Geneva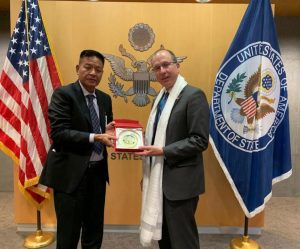 Sikyong Penpa Tsering of the Central Tibetan Administration met senior officials from the Office of the United Nations High Commissioner for Human Rights (OHCHR) based in Geneva on 3 November. He also met Benjamin W Moeling, Chargé d'Affaires at the U.S. Mission to the United Nations and Other International Organizations in Geneva, Switzerland.
Sikyong also spoke to a group of about twenty students at the Graduate Institute, Geneva (IHEID) along with Dr Micheal van Walt van Praag. The two spoke on the topic 'Diplomacy in the 21st Century: Examining the Political and Legal Status of Tibet'. The interaction was organised by Student Initiative on Asia (SIA).
During the interaction, Dr van Praag explained that Tibet has never been a part of China historically and the Chinese government's claim that Tibet is a part of China has no basis in history. Sikyong Penpa Tsering spoke about the evolution of Tibetan democracy in exile and gave a brief introduction on the structure and functions of the Central Tibetan Administration. The talk was followed by a question and answer session.
In the afternoon, Sikyong met French-speaking members of the Swiss-Tibetan Friendship Association. During the meeting, Sikyong discussed future plans and activities, and responded to queries from the group.
Sikyong will leave Geneva for Bern on 4 November where he will meet MEPs and has speaking engagements lined up.