Sikyong Penpa Tsering addresses Intergroup Parliamentary for Tibet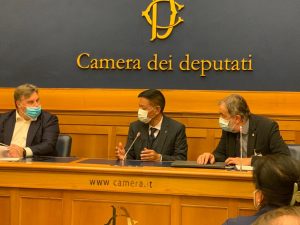 Following his address at the conference of the Inter-Parliamentary Alliance on China (IPAC) on Friday, Sikyong Penpa Tsering of the Central Tibetan Administration was invited to address the Intergroup Parliamentary for Tibet held the same day at the lower house of Italian Parliament.
The session was chaired by the President of the Intergroup Parliamentary for Tibet, Mr. Luciano Nobili and parliamentarians who were present at the meeting were Annibali Lucia,  Ungaro Massimo, Anzaldi Michele, Ruggieri Andrea, and Mollicone Federico.
Sikyong Penpa Tsering highlighted the bullying behavior of China by emphasizing its aggression in South China Sea, with Indian border and Taiwan etc. He said that despite what China claims itself to be 'harmonious' is contradictory when it comes down to their actions.
"Despite China's attempt to conceal the truth, the policies and programs in Tibet have become more rigid and controlled" Sikyong said while highlighting China's pursuit to eradicate the Tibetan language that has resulted in the near destruction of the language. Likewise, he mentioned about China's suppression and control over the Tibetan Buddhism through its repeated interference in the reincarnation tradition of Tibetan Buddhism particularly the reincarnation of the Dalai Lama while pointing out that China should instead focus on seeking reincarnation of Mao Tsetung and Deng Xioabing if they are really that intrigued.
At the same meeting, Sikyong also raised the climate issue of the Tibetan Plateau and remarked that China had no intention to address Tibet's environmental issue despite what it claims. Sikyong requested the representatives of Italy at COP26 to raise the importance of Tibet's environment at the summit, alerting that the world might soon have to face environmental refugees if it is not addressed effectively.
"Tibet's environmental issue is not at all a political issue considering its impacts on many asian countries that are dependent on rivers originating from Tibet" concluded Sikyong and appealed to all the global leaders to held China accountable for its misdoing against the climate crisis.