State Violates Citizens Rights During the Chinese President's 2016 Visit: Czech Court Rules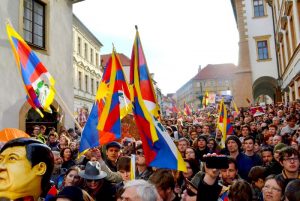 On 18 November, the Czech court pronounced final judgement against Czech Republic's restriction on staging peaceful demonstrations in protest against the Chinese President Xi Jinping visits in Prague on 28th March 2016. The Czech court ruled in favour of democratic rights and announced the Czech police's response as "unlawful".
During the state visit of the Chinese president in Prague, over several hundred Czech pro-justice and Tibet supporters rallied in Prague, waving Tibetan national flags and chanting slogans including "Freedom for Tibet ". Despite the announcement of the public event in protest against Xi Jinping's visits within the statutory deadline, the authorities without raising any prior objection, the Czech police closed Hradčany Square citing the "traffic regulation". Furthermore, the demonstrators were confronted by Chinese, including a Chinese couple who snatched the Tibetan National flag from a Czech woman and threw it into a nearby Vltava river.
In search of justice for the reportedly "shameful" response by Czech authorities, the organiser of the peaceful demonstration-Martin Bursik, Katerina Bursik Jacques, Tomas Pikola, Katerina Kudlackova- filed the lawsuit on 29th March 2016. The case was initially discarded by the Czech lower court and brought up to the municipal court.
Welcoming the court's ruling, Representative Chhimey Rigzen of the Tibet Bureau Geneva said "the journey in defence of democratic values has never been easy, however, history has proven the arc of truth bends toward justice". He thanked all Czech based pro-justice, pro-Tibet and human rights defenders for staying strong and still in all these long years for the Czech court ruling. He believes the Czech court judgments will serve as an inspiration in protecting democratic values and constitutional rights in the face of growing Beijing's unconstitutional footprints in democratic countries.
The plaintiff- Martin Bursik, chairman of the Czechs Support Tibet organization, said "Had we not spoken up, it would have considerably weakened the state of our democracy". Furthermore, co-plaintiff Kateřina Bursíková Jacques said "I am glad that the Czech Republic strives to function as an advanced, Western-style democracy, not a Chinese despotism. What happened in Prague during the Chinese President's visit in 2016 was disgraceful and, as the court has declared, unlawful. The court's decision sends an important message to all citizens who felt affronted at the time, and serves as a precedent for the future".
The court ruled compensation for the plaintiff from the defendant for all of the costs incurred in the lawsuit.