Switzerland Notes "Increasing Pressure on Tibetan Language" by China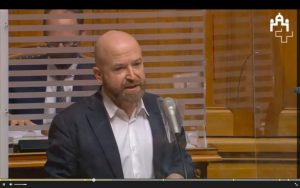 In the ongoing winter session of Parliament, Switzerland noted China's "increasing pressure on the Tibetan language" and reiterated its commitment to "prioritise human rights issues" in its policy towards China.
While expressing concern over China's ever-increasing move in promoting Mandarin leading to forced closure of all remaining schools teaching in Tibetan, Hon'ble Nicolas Walder, Member of Parliament and co-president of Swiss-Parliamentary Group for Tibet, questioned the Federal council of Switzerland over its view on current situation of cultural rights of Tibetan people, and also asked for Switzerland's position on religious rights of the Tibetan people, in particular the rights to freely choose their religious leaders.
In its written response to the parliament on Monday, 14 December, Switzerland said as noted in "its China Strategy 2021-2024 that the human rights situation in China has deteriorated, especially for ethnic and religious minorities who are under additional pressure. For this reason, Switzerland prioritises these issues in its human rights policy towards China."
While referring to China's forcible closure of remaining Tibetan medium language schools in Tibet, Switzerland confirmed it had noted "the Tibetan language is under increasing pressure", and "it is an issue" to raise with China. Responding to the parliamentarian's question on Switzerland's position on religious rights of Tibetan people, in particular the right to choose religious leaders, "religious leaders should be freely chosen by the community concerned", explained in its written response.
The ongoing winter session of the parliament which began on 27 November will conclude on this Friday, 17 December 2021.