Swiss-Tibetan Friendship Association and Tibet Bureau Geneva Meet to Chart Work Plans for Tibet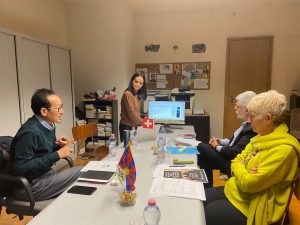 Tibet Bureau Geneva and representatives from Swiss-Tibetan Friendship Association met to discuss work plans for Tibet in the French-speaking part of Switzerland, especially in Geneva. The meeting was held at the Tibet Bureau on 11 January 2022.
Former Parliamentarian and Mayor René Longet and Former Councilor of City of Geneva Marguerite Contat met with Representative of Tibet Bureau Geneva Chhimey Rigzen and the staff members Tenzin Choesang and Kalden Tsomo.
A wide range of issues were discussed including Tibet advocacy plans at cantonal and national level. UN Advocacy officer Kalden Tsomo presented a brief presentation on the operation of CCP's influences under the guise of NGOs and non-profit institutes, and significance of grassroots level responsibilities to bring government and representatives in account to counter Chinese propaganda and influence operations. The meeting drew a series of action plans for the next coming months.
Representative Chhimey Rigzen thanked the representatives of the Romande section of the Swiss-Tibetan Friendship Association Renè Longet and Marguerite for their constant solidarity and unwavering dedication to support for Tibet.