Dhundup Wangchen's Documentary Screens in Geneva on the Opening Day of 2022 Winter Olympics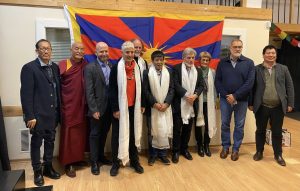 On the opening day of 2022 Beijing Winter Olympics, Swiss based Tibet Group screened Tibetan former political prisoner Dhundup Wangchen's documentary titled "Leaving Fear Behind" at the International House of Associations (MIA) in Geneva. The screening was followed by an hour-long interactive session with the filmmaker.
The alternative opening of the 2022 Beijing Winter Olympics; screening and interactive session with Dhundup Wangchen in Geneva, was organised by the French speaking section of the Swiss-Tibetan Friendship Association.  The event was joined by co-president of Swiss-Parliamentary Group for Tibet Nicolas Walder and State councillor and member of Swiss Parliamentary Group for Tibet Carlo Sommaruga. Europe members of Tibetan Parliament in Exile Ven Thubten Wangchen and Thupten Gyatso accompanied by Representative Chhimey Rigzen and staffs of the Tibet Bureau; Ms.Tenzin Choesang and Ms. Kalden Tsomo attended the event as well.
Featuring interviews of Tibetans in Tibet from all walks of life, the documentary "leaving fear Behind" credibly depicted Beijing's systematic repression in Tibet; Tibetans longing the return of His Holiness the Dalai Lama to Tibet during their life time and their views on 2008 Beijing Summer Olympics. Dhundup Wangchen echoed the pain of not having freedom for Tibetans under the Chinese Communist Party and powerfully enumerated the unfulfilled promises made by China during the 2008 Summer Olympics. China is annihilating Tibetan people by systematically attacking Tibetan language, culture, religion and Tibetan traditional values, added Dhundup Wangchen.
The self-taught filmmaker Dhundup secretly shot the documentary "Leaving Fear Behind" to uncover life in Tibet under the Chinese Communist Party's rule. After his footage was smuggled out, Dhondup was detained by the Chinese government in March 2008. He was sentenced to six years in prison on charges related to the documentary film. After his release in 2014, Dhondup was placed under heavy surveillance. In December 2017, Dhondup escaped Tibet and was granted asylum in the United States.
In recognition of his tireless work in defense of suppressed voices of Tibetans in Tibet, Dhundup Wangchen was awarded several prestigious international awards including International Press Freedom Award. He was nominated for the Nobel Peace Prize 2022, earlier this week.