"We came to deliver our support to Free Tibet": Vice President of the Czech Senate in Dharamshala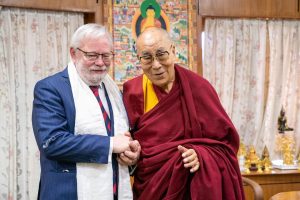 Following the official commemoration of the 63rd anniversary of Tibetan Uprising Day held at Tsuglagkhang this morning, the Czech Parliamentary delegation led by Hon. Jiri Oberfalzer, Vice President of the Czech Senate addressed the Dharamshala based Tibetan media in the afternoon on the issue of Tibet. "Our message is very simple. We came from the Czech Republic to deliver and express our support to free Tibet, " said Vice President of the Czech Senate to the Tibetan media adding that the government and the people of the Czech Republic are committed to continuing this friendship and keep supporting Tibet.
The friendship between the Czech Republic and the Tibetans was cemented when His Holiness the Dalai Lama first visited the country at the invitation of former President Václav Havel in 2000 and since then His Holiness has visited the country over seven times in the last 16 years. His Holiness last visited the country in 2016.
"We have gone through similar historical development so we understand very well the predicament of Tibetans who live under oppression. The loss of free speech and the freedom to govern own's country due to the suppression. This encourages us to openly express our support for the Tibetan issue"  continued Vice President Jiri Oberfalzer.
To the Tibetans inside Tibet, he said to keep their hope alive despite the difficulties adding, "China can take us over in politics but we can take over China through the teachings of Buddhism".
Earlier today, the delegation received a special audience with His Holiness the Dalai Lama at his residence. During their meeting, His Holiness shed a light on the significance of the 10th March event and subsequently narrated the story of his escape into exile. His Holiness also shared with them his views on creating a peaceful and compassionate world while emphasizing fostering a sense of oneness and overcoming disparities.
In his concluding remarks, the Vice President of the Czech Republic Senate extolled the Sikyong and members of the Tibetan parliament for working tirelessly on the Tibetan issue with a lot of optimism.
CTA's Spokesperson Tenzin Lekshay who was accompanying the delegation thanked them for attending the official event observed today. Their presence in Dharamshala he noted, "sends a strong message of solidarity and hope to Tibetans around the world while it also reenergizes the Tibetan movement".