Swiss Parliamentarian Calls Federal Council's Attention to Situation in Kham Drakgo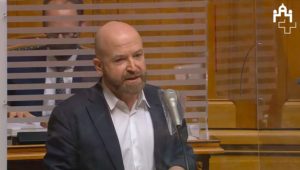 Co-president of Swiss-Parliamentary Group for Tibet Hon'ble Nicolas Walder expressed concern over the "worrying" situation in Tibet, in particular increasing Chinese repression in Kham Drakgo, Eastern Tibet. In view of the deteriorating situation in Kham Drakgo, Hon'ble Nicolas Walder asked the Swiss-federal for its "analysis" and "intend to condemn" destruction of Tibetan Buddhist religious sites in Kham Drakgo by the Chinese government. The federal council has been further asked about its "concrete steps" to protect Tibetan religious and cultural heritage, and efforts being taken for safeguarding  the rights of Tibetan people in deciding their own religious heads.
In a written interpellation no.22.3247, submitted during the parliamentary concluding spring session, Hon'ble Nicolas Walder raised concern over  increasing Chinese repression on Tibetan culture and freedom of religion, and said "Beijing no longer hesitates to destroy the remaining religious sites and close schools teaching Tibetan, which raises serious concerns about the future of this thousand-year-old people."  While bringing specific cases and evidence of rights violations by the Chinese authorities in Kham Drakgo, Hon'ble Walder highlighted the Kham Drago situation reported between October 2021 to January 2022. These include demolitions of Tibetan Buddhist statues, closure of Drakgo Gedhen Nangten School and arbitrary arrests of Drakgo monastery's abbot along with other local residents.
Furthermore, setting up of "poultry and pig farm" by razing down the Tibetan Buddhist religious sites and dwellings of Buddhist monks in Kham Drakgo is a "humiliation" and a "further sign of non-respect" to the Tibetan cultural and religious rights, said Hon'ble Nicolas Walder in the written interpellation, which requires written response from the federal council of Switzerland.