Tibet Bureau in Geneva Receives Basketball Champion and Human Rights Activist Enes Kanter Freedom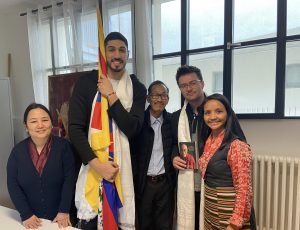 The Tibet Bureau in Geneva received Enes Kanter Freedom, celebrated basketball champion and human rights activist, at the bureau this afternoon, 04 April 2022. Enes Freedom was accompanied by his manager Mr. Hank Fetic and the head of the Geneva Office of the International Association for Human Rights, Mr Ricardo Espinosa.
The Tibet Bureau thanked Enes Kanter Freedom for giving his "extraordinary voice for voices silenced by the authoritarian regime", and explained the ongoing cultural and religious repression including the continued enforced disappearance of Tibet's 11th Panchen Lama Gedhun Choekyi Nyima and unabated self-immolation protests by Tibetans as a form of political protests against Chinese repressive policies in Tibet. Similarly, the Bureau briefed about the mass surveillance and operation of Chinese influences with efforts to silence Tibetans living outside of Tibet, in particular those who continue to connect with families and relatives back in Tibet. Joint coordinated efforts to further strengthen human rights and Tibet advocacy were also discussed during the meeting.
Enes Kanter assured his determined efforts to continue to raise his voice and use his freedom to put the spotlight on human rights abuses by China and horrendous human rights violations in Tibet and other regions under China. Enes Kanter is deeply moved by the efforts of the Tibetan people to preserve Tibetan culture and language. The meeting should be the "beginning" for a better future, said Freedom.
In recognition of his "heroic efforts to sound the alarm on China's brutal human rights abuses", Enes Kanter will be receiving the 2022 Courage Award presented by the Geneva Summit, a cross-regional coalition of 25 Human Rights Organizations, on 06 April 2022.