The Tibet Bureau Hosts Reception for Swiss-Parliamentary Group for Tibet in the Parliament of Switzerland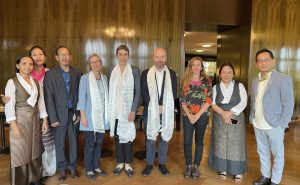 The Tibet Bureau in Geneva hosted a reception for the Swiss-Parliamentary Group for Tibet to express gratitude for standing in support of Tibet for all these years.
Sidelining the ongoing summer session of the Swiss Parliament, Representative of the Tibet Bureau Chhimey Rigzen accompanied by staff of the Bureau Tenzin Choesang and Kalden Tsomo; President and Vice President of Tibetan Community of Switzerland and Liechtenstein Karma Choekyi and Tenzin Wangdue and Representative from Swiss Tibetan Friendship Association Bettina Eckert met with members of Swiss-Parliamentary group for Tibet during the Tibet Bureau's reception in the parliament of Switzerland on 7 June.
The co-president of the Swiss parliamentary group, Hon'ble Nicolas Walder appreciated the Tibet Bureau for organising the reception and assured the parliamentary group's continued concern for the situation of Tibetans in Tibet and exile. The parliamentary group closely followed advancing the pledge of Tibetan people and shared the urge "need to do more" given the ever growing Chinese persecution of the Tibetan people, and trans-national repression said Hon'ble Nicolas Walder. Hon'ble Walder was joined by Hon'ble Prisca Birrer and Hon'ble Barbara Gysi.
Representative Chhimey Rigzen thanked members of the Swiss Parliamentary Group for Tibet for giving spotlight on the rapidly deteriorating situation of the Tibetan people and holding China into account for its atrocities in Tibet, including tabling postulates and interpellations on Tibet in the parliament, over the years. Representative Chhimey requested the parliamentarians to the concerted efforts in support of bringing the just cause of Tibet to the forefront.
The parliament of Switzerland commenced its summer session on 30 May and is scheduled to wrap up on 18 June 2022.