UN HRC 50th Session: 47 UN Member States "gravely concerned" about Human Rights Situation in Tibet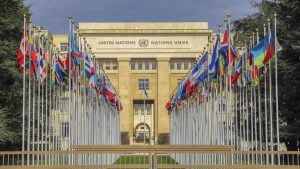 On the second day of the UN Human Rights Council 50th session, 47  UN Member States stated states are "gravely concerned" about the human rights situation in Tibet.
While presenting a cross regional joint statement during an interactive dialogue on the High Commissioner's Annual Report, on 14 June, the Netherlands delivered a statement on behalf of 47 member states. The statement gave spot light on systematic violations of human rights by China, in particular in Tibet, East Turkestan and Hong Kong.
The states "continue to be gravely concerned about the deterioration of respect for human rights and fundamental freedoms in Hong Kong and the human rights situation in Tibet", reads the statement.
In view of the UN High Commissioner's recent visit to China and end of the mission statement of 28 May, the member states stressed the High Commissioner to disclose detailed observations, including on Beijing restrictions imposed on the visit and access to civil societies.
Furthermore, the states called upon China gives provide meaningful and unfettered access, and ensure full respect for the rule of law, to comply with obligations under national and international law with regard to the protection of human rights and to ratify the International Covenant on Civil and Political Rights.
The Kingdom of Netherlands led joint statement on human rights violations by China was co-signed by Albania, Andorra, Australia, Austria, Belgium, Belize, Bulgaria, Canada, Croatia, Czech Republic, Denmark, Estonia, Eswatini, Finland, France, Germany, Guatemala, Honduras, Iceland, Ireland, Israel, Italy, Japan, Latvia, Liechtenstein, Liberia, Lithuania, Luxembourg, Marshall Islands, Monaco, Montenegro, New Zealand, North Macedonia, Norway, Palau, Poland, Portugal, Romania, San Marino, Slovakia, Slovenia, Spain, Sweden, Switzerland, United Kingdom of Great Britain and Northern Ireland, United States of America.
The 50th UN Human Rights Council's regular session convened on 13 May will conclude on 8 July. Ahead of the 50th UNHRC session, a group of more than 40 UN experts called upon China to address "specific and systematic human rights violations" and demanded for "unhindered access" to China.