Representative Thinlay Chukki and Taiwanese Director General Nicole Su Discussed Importance of Freedom and Democracy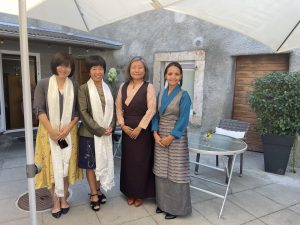 The Director General of the Taipei Cultural and Economic Delegation in Geneva, Nicole Su, accompanied by Shih-yi Huang, First Secretary hosted Representative Thinlay Chukki and UN Advocacy Officer Kalden Tsomo from Tibet Bureau Geneva on 25 August 2022.
Over the luncheon, the Representative and the Director General discussed wide-ranging topics including the worsening human rights situation in Tibet, China's expanding transnational oppression and pervasive influence in international organisations as well as the recent developments in Taiwan including the recent visit of US Speaker Nancy Pelosi to Taiwan.
They also discussed the importance of protecting and promoting freedom and democracy across the board. The Representative also gave a brief overview of the Central Tibetan Administration and how it is preserving and promoting democracy in exile.
The Director General commended the Tibetan community for successful implementation of democratic principles in exile as well as preservation of its unique culture and tradition.  She also tweeted sharing "concern of the deteriorating human rights situation in Tibet, Xinjiang" and noted "Freedom-loving ppl (sic) should stand together!"
The Representative and the Director General agreed to continue the important interaction and exchanges in the future and find common grounds for cooperation.
Director General Nicole Su took charge of the Geneva Office in 2021 and has been working in the Taipei Ministry of Foreign Affairs since 1998. She recently served as the Deputy Director General at the Department of East Asian and Pacific Affairs under the Ministry of Foreign Affairs.