Representative Thinlay Chukki Briefed US Ambassador Michele Taylor on Tibet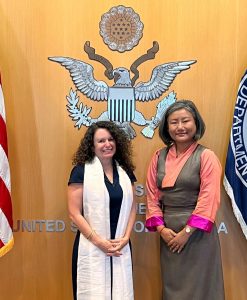 Representative of His Holiness the Dalai Lama and the Central Tibetan Administration for Central and Eastern Europe, Thinlay Chukki from Tibet Bureau Geneva met with US Permanent Representative to the UN Human Rights Council at the US Mission in Geneva, Ambassador Michele Taylor on 24 August 2022 to discuss the situation in Tibet.
Representative Thinlay briefed the Ambassador on the egregious human rights violations being carried out in Tibet by the Chinese authorities including the recent report by the Special Rapporteur on Slavery where the UN expert had drawn clear conclusions on existence of force labour arrangements in Tibet as similarly found in East Turkestan (CHN: Xinjiang). The Representative also highlighted the continued religious rights violations of Tibetans in Tibet including restrictions to access monasteries, destruction of religious worship centres and Buddhist statues.
Ambassador Michele Taylor empathised with the situation of Tibetans in Tibet and assured continued support of the US. In her tweet, the Ambassador noted, "Great meeting with Ms. Thinlay Chukki, Representative at the Tibet Bureau based in Geneva. We spoke on a range of issues and I shared how the US mains gravely concerned by threats to the religious freedom of Tibetan Buddhists."
Representative Thinlay thanked the Ambassador for her support and they both agreed to continue the critical conversation on Tibet.