Kalon Norzin Dolma Concludes Engagement in Switzerland; joins Sikyong led delegations in Germany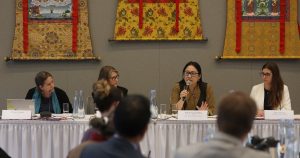 Following the successful maiden visit to Italy, DIIR Kalon Norzin Dolma  undertook engagements in Switzerland from 04 October to 7 October 2022.
Coinciding with the final week of the 51st session of the UN Human Rights Council, Kalon Norzin Dolma spoke at the side event titled "Global Implications of the Dalai Lama's succession" hosted by the Permanent Mission of the United States in Geneva, co-sponsored by Canada, Czech Republic, Lithuania and the United Kingdom.
The special guests of the event featured the Special Coordinator for Tibetan Issues Under Secretary of the United States Uzra Zeya,  U.S Permanent  Representative to the UN Human Rights Council Ambassador Michele Taylor, UK Special Envoy for Freedom of Religion or Belief Fiona Bruce.
Speaking at the event, Kalon echoed concern over China's relentless persecutions of Tibetans and systematic attack on centuries-old Tibetan Buddhist practice of reincarnation through various state-led campaigns and controls such as patriotic re-education and Order no-5 amongst other Chinese repressive measures. Reiterating the Central Tibetan Administration's general position of reincarnation matter, Kalon said the Tibetan Buddhist system of reincarnation is a unique religious thought with fundamental "philosophy to accept the principle of rebirth". Therefore, neither state nor any individual has the right to interfere in this religious matter, emphasised Kalon. Expressing the sincere appreciation to the democratic states across the world, including the United States, for defending the rights of Tibetan people in determining one's religious leaders, Kalon called for more joint efforts from like-minded countries including legislative measures in countering China and its repressive measures.
The bilateral engagements also included meetings with government officials and legislative members of Switzerland, Taiwan delegation in Geneva Ambassador Nicole Su alongside with other meetings.
Kalon Norzin Dolma also met with students of the Graduate Institute in Geneva. Speaking at the event titled "Navigating the Diplomatic Landscape: The Case of Tibet", hosted by Student Initiative on Asia, Kalon gave a comprehensive overview on uniqueness and various forms of Tibetan diplomacy. She said Tibetan diplomacy is "operated in exile and influenced by Tibetan Buddhism". Explaining Tibetan delegation's diplomacy to Envoy diplomacy to Public diplomacy, Kalon said Tibetans are determined to work for a peaceful resolution with non-violent and win-win proposals.
Kalon visited Rikon Tibet Institute, one of the first Tibetan monasteries in Europe founded in the 1960's. While stressing the importance of Tibetan grassroots organisations in keeping the Tibetan community together and contribution to the survival of the Tibetan culture and advancing Tibet agenda in the host country, Kalon Norzin Dolma met with representatives of Tibetan Community of Switzerland & Liechtenstein, Swiss-Tibetan Friendship Association, Swiss-Tibetan Women Associations and Tibetan Youth Associations Europe.
Kalon Norzin Dolma along with Representive Thinlay Chukki of the Tibet Bureau joined Sikyong led CTA delegation in Germany on 09 October.