Tibetans and Supporters in Switzerland, Germany, Italy and Austria Call for Human Rights in Tibet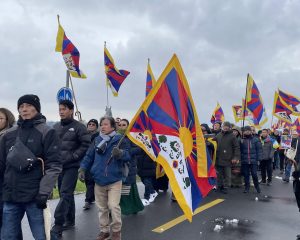 Tibetans and Tibet supporters observed the 74th International Human Rights Day by organising a peace march and demonstrations in Switzerland, Germany, Italy and Austria.
Marking the 74 years since the Universal Declaration of Human Rights (UDHR), members of Tibetan communities and Tibet supporters called upon the international community, including the United Nations, to assess the deteriorating situation in Tibet under the illegal occupation of China.
In Switzerland, the Tibetan Community of Switzerland & Liechtenstein organised a peace march from the UN Office of High Commissioner for Human Rights to the UN Human Rights Council's building. Holding Tibetan National Flag and placards, members of the community called China to "Respect Human Rights in Tibet" and "Stop Genocide in Tibet", amongst other slogans raised during the march.
Speaking at the event, Representative Thinlay Chukki gave a spotlight on continued violations of human rights in Tibet and the relentless persecution of Tibetans for merely exercising rights that are enshrined in the Universal Declaration of Human Rights. Despite decades of repression in Tibet, China has failed to suppress Tibetans' determination to speak up against the authoritarian regime of China, she said. Representative Thinlay acknowledged the presence of a large number of Swiss-Tibetans, including Tibetan youngsters and children, to mark the day. She also read out Kashag's statement on the 33rd Anniversary of the Conferment of Nobel Peace Prize on His Holiness the Dalai Lama.
While addressing the gathering, European Tibetan Member of Parliament-in-Exile Thupten Gyatso highlighted ongoing disturbing situations in Tibet along with China's violations of international human rights obligations. He called out for collective responsibility in countering China's ongoing violations of international human rights obligations, including failure in early disclosure of the outbreak of COVID from China.
Representatives from Swiss-based Tibetan NGOs and support groups also addressed the gathering.
In Germany, along with Uyghurs, Hong Kongers, and Chinese groups, the Tibetan community in Berlin and Tibet Initiative Deutschland marched from the Berlin Cathedral to Brandenburg Gate in Berlin. Similarly, In Austria, representatives from the Tibetan community in Austria gathered in front of the Chinese Embassy in Vienna. Holding placards calling China to "Stop Genocide in Tibet" and "Freedom in Tibet", the members of the community marked International Human Rights Day. In Italy, members of the Tibetan community joined the protest in Rome and called for human rights in Tibet.