Tibetan Weekend Schools of Switzerland & Liechtenstein hold Tibetan Cultural Competition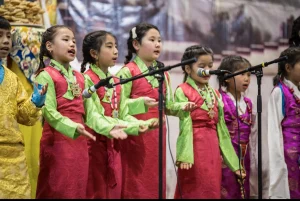 Tibetan community of Switzerland & Liechtenstein held annual cultural competition amongst Tibetan weekend schools in Winterthur city of Zurich Canton on 14 January. The competition was part of Tibetan weekend schools' effort to introduce and inculcate a wide range of Tibetan  cultural and ceremonial dresses; group and solo Tibetan songs; role play and Tibetan proverbs to the students of Tibetan weekends in Switzerland & Liechtenstein.
Over 365 students accompanied by teachers from 18 Tibetan weekend schools took part in the day-long event. Each winner in the respective section of the performance received a cash prize of  CHF 400 for the first  position; CHF 300 for the second position and CHF 250 for the third position along with the winners' trophy.
Addressing the gathering, Tenzin Choesang from the Tibet Bureau appreciated the new generation of Swiss-born Tibetans for taking utmost interest and performing Tibetan cultural songs and reciting Tibetan proverbs despite having regular academic commitments. Furthermore, she applauded Tibetan parents for their support, motivation and encouragement to their children in safeguarding the distinct cultural identity of Tibetan by crucially making them part in the community's activities aimed for preservation of Tibetan language and culture. She thanked the director and teachers of Tibetan weekend schools and the entire organizing team for all their efforts for facilitating an event that would enrich Tibetan children to take active part in preservation of Tibetan culture and language. 
Ven Thupten Legmen, abbot of Tibet Institute Rikon, President of Tibetan community of Switzerland & Liechtenstein also addressed the gathering followed by vote of thanks by the director of Tibetan weekend schools Tsewang Munsel.