Tibet Bureau Geneva to Organise Virtual Panel on Tibet ahead of UN Treaty Bodies' Review of China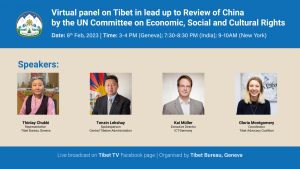 In the lead up to the review of China by the UN treaty body-Committee on Economic, Social and Cultural rights (CESCR), the Tibet Bureau, Geneva will organize a virtual panel on the situation in Tibet on 8th February 2023.
The panel will discuss and deliberate on Tibet-focus advocacy groups' submissions to the Committee on situation in Tibet, in particular, unfulfilled promises of China in the implementation of International Covenant of Economic, Social and Cultural Rights (ICESCR). To comply with the covenant, signatory parties of the covenant are required to submit reports and undergo review after every five years on steps taken by the state in implementation of the convention.  China ratified the International Covenant of Economic, Social and Cultural Rights (ICESCR) in 2001. Since then, China has been reviewed by the committee twice. In the upcoming 73rd session of the review, China is scheduled to undergo the third cycle of the review by the Committee from 15th to 16th February 2023.
The virtual panel will be broadcast live via the Tibet TV Facebook page from 7:30 pm to 8:30 pm India Time ; Geneva Time- 3:00- 4:00 pm ; New York time- 9:00 to 10:00 am. The audience can submit their live questions via the comments section.
The speakers of the panel includes Representative of the Tibet Bureau Thinlay Chukki; spokesperson of the Central Tibetan Administration Tenzin Lekshay; Executive Director of International Campaign for Tibet, Germany Kai Müller and Tibet Advocacy Coalition Coordinator Gloria Montgomery.