Swiss Parliamentary Group for Tibet Echos Concerns of UN Experts on Forced Assimilation and Separation of 1 Million Tibetans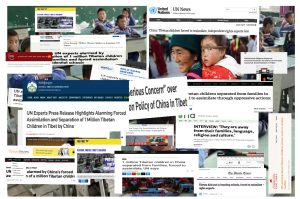 The Swiss Parliamentary Group for Tibet has raised concerns about the forced assimilation and separation of 1 million Tibetan children in Tibet as recently reported by the UN Experts. 
The statement was issued jointly by the Co-Presidents of the Parliamentary Support Group National Councillors Andrea Geissbühler, Nik Gugger, Fabian Molina, Nicolas Walder and Vice-President Member of the Council of States Maya Graf.  
The statement noted, "The members of the Parliamentary Group for Tibet are deeply concerned about UN reports on the system that forces Tibetan children into a Chinese-style boarding school system from kindergarten age, with no possibility for the children concerned or their parents to resist it." 
"This system of boarding schools forces Tibetan children to assimilate culturally, religiously and linguistically," warns National Councillor Fabian Molina Co-President of the Parliamentary Group for Tibet. 
"As a result, Tibetan children lose exposure to their mother tongue and the ability to communicate in the Tibetan language, which contributes to their assimilation and the erosion of their own Tibetan identity," says National Councillor Nicolas Walder Co-President of the Parliamentary Group for Tibet.
The statement also noted that, "The forced boarding schools are part of a series of other repressive measures against Tibetan culture and religion."
Representative Thinlay Chukki from Tibet Bureau Geneva welcomed the statement of the Swiss Parliamentary Group for Tibet and thanked them for their continued support.
The entire statement can be read here.