Swiss Parliamentary Group for Tibet Meets on sidelines of Spring Session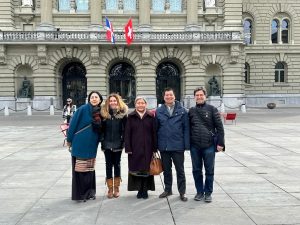 The Swiss Parliamentary Group for Tibet met on 7 March in the Parliament building on the sidelines of the Spring Session to discuss matters relating to Tibet and Tibetans.
The co-President of the Group National Councilor Nicholas Walder along with new member of the group National Councillor Natalie Imboden were present on behalf of the Parliamentary Group. Representative Thinlay Chukki from Tibet Bureau Geneva, Member of Tibetan Parliament-in-exile from Europe Thupten Gyatso, President of the Tibetan Community of Switzerland and Liechtenstein Karma Choekyi, President of the Swiss Tibetan Friendship Association Thomas Buchli and the association's staff Bettina were present at the meeting.
During the meeting the parliamentarians were briefed about the situation in Tibet especially updating them about the forced assimilation of Tibetan children in Tibet under the guise of residential school as well as the massive DNA collections across Tibet. The Representative personally thanked the Parliamentarians for their strong statement on the UN press release.