Popular Swiss Cartoon Globi Visits Tibet in His Latest Adventure "Globi with the Yaks"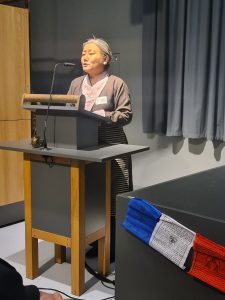 The popular Swiss Cartoon character Globi visits Tibet in the latest edition of the book titled "Globi with the Yaks" officially launched on 8 March 2023 at Reitberg Museum in Zurich.
Representative Thinlay Chukki from Tibet Bureau Geneva, President of the Swiss-Tibetan Friendship Association Thomas Buchli, Gisela Klinkenberg from Globi Publishers, authors Dani Frick and Boni Koller were present at the launch event.
Globi, a popular character in the German speaking parts of Switzerland, was created by Swiss cartoonist Robert Lips in 1932 for an advertisement and later appeared in a cartoon picture-book form called Globi´s World Voyage in 1935. Since then, Globi has been undertaking various adventurous trips across the world and has met several celebrities including Roger Federer in the earlier editions. The Globi with sales over 9 million books, is owned by Orell Füssli publishers.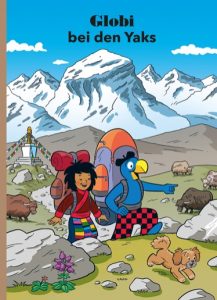 In the latest edition Globi makes an arduous trip across Himalayas and into Tibet in search of a medicinal herb to cure a sick baby yak named "Tashi" he met in Swiss Alps. With a new found Tibetan friend Tenzin and Lhasa apso Tibi, Globi takes this adventurous trip meeting snow lion, garuda and yeti on the way. Finally at the request of Tenzin, Globi even visits Dharamshala and meets His Holiness the Dalai Lama. The book has beautiful illustrations of snow-capped mountains of Tibet, monks and monasteries, mandala and prayer flags.
Speaking at the book launch event, Thomas Buchli, thanked the Globi publishers, authors and members of Swiss Tibetan Friendship Association for making his dream of bringing Globi to Tibet a reality. He hoped that the book would be translated in Tibetan by the Department of Education under the Central Tibetan Administration.
Commending the concerted efforts and dedication of Thomas Buchli and his team of Swiss-Tibetan Friendship Association members for over two years, Representative Thinlay Chukki thanked the publishers and the authors of the book. Quoting His Holiness the Dalai Lama that large amount of resources are spent in this world developing the mind, whereas it is more important to develop the heart, Representative noted "´Globi with the Yaks´ represents the importance of compassion, kindness, peace, love and friendship during these difficult times. We hope that through this book the Swiss children will learn about the Tibetan culture, values and way of life. This book shall hopefully pave the way to revive and remind especially amongst youngsters the beautiful friendship shared between Swiss people and Tibetans dating back to the 1960s when Switzerland received Tibetan refugees with open arms into their homes and hearts." Representative assured her full support to the proposal request of translating the Globi book in Tibetan language and noted "as Swiss Children learn about the Tibetan culture and traditions; Tibetan children will also be able to learn about Switzerland and Globi."