Representative Thinlay Chukki Highlights Importance of Compassionate Culture at Human Rights Conference in UN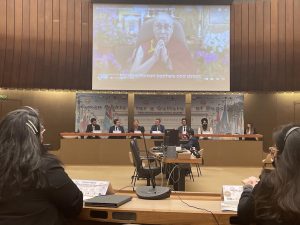 Marking the 74th anniversary of the Universal Declaration of Human Rights, a day-long conference titled "Human Rights for a Culture of Peace", was organised at Palais des Nations, Geneva on 9 December 2022. The conference was jointly organised by an Italy based human rights organisation by "Associazione per i Diritti Umani e la Tolleranza" and Mejora. The event was also co-sponsored by several NGOs in consultative Status to the UN ECOSOC.
Speaking at the panel 2 of the conference, titled "Faith and Human Rights", Representative Thinlay Chukki along with speakers representing various religious communities echoed the importance of respecting people from all faiths and people with no faith. Highlighting the centuries old Tibetan Buddhist practice and teaching stressing the philosophy of "life of every sentient being including animals are precious", Representative Thinlay noted that the teachings and messages of His Holiness the Dalai Lama have always emphasised the need to look at the world as a one large family of 7 billion human beings who aspire for happiness and want no sufferings.
During her speech, she also screened the video message of His Holiness the Dalai Lama issued for the International Religious Freedom Summit in 2021 where His Holiness noted that all religions carry the same message of love, forgiveness, contentment and self-discipline despite religious tradition having different philosophies and practices. She also acknowledged the presence of Member of Tibetan Parliament-in-Exile for Europe, Thupten Gyatso, amongst the participants.
The conference was participated by representatives from various organisations and religious communities.